Semenjak Emir Hakeem kerap admitted sy dan en hafiz mula fikir kenapa dia kerap sangat tak sihat. so dari situ kami mula gulung karpet dan google cara untuk mengelakkan dia admit lagi sekali. Jadi en hafiz fikir nak beli air purifier dan tanam pokok kat dalam rumah.
Dalam sebulan atau dua bulan lepas kami survey Air purifier kat Harvey Norman Paradigm Mall dan beli. Harga dalam RM1,300 (kalau tak silap) Brand Hitachi.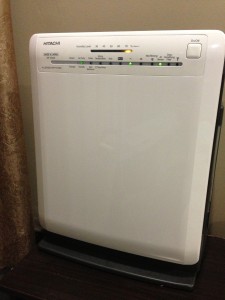 Last week pulak pegi nursery kat area Jalan Sungai Buloh tu. En hafiz dah google dah pasal pokok yg sesuai untuk air filtering. time tu kami cuma beli dua jenis iaitu Peace Lily dan Snake Plant. List of air-filtering plants – Wikipedia, the free encyclopedia boleh klik link ni untuk details.
tapi hati-hati dua-dua pokok ni toxic to cats.
Snake Plant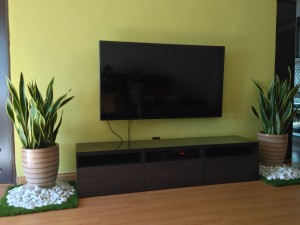 Peace Lily
So far dua-dua sihat walafiat je. siram pulak sekali seminggu je sebab kalau tanah terlalu lembab diaorang tak boleh bernafas. jadi tak payah rajin nak siram pokok pagi-pagi tiap-tiap hari ye. Snake plant tu harda dalam RM28 sepokok. satu pastu tu untuk tiga pokok. pasu pulak depends la ambik jenis mana. kalau macam kat atas tu. dalam RM30 kalau tak silap. Peace Lily pun harga dalam RM20. satu pasu muat dua pokok. dah berbunga pun Peace Lily tu. letak dalam bilik pokok tu. ok kat bawah ni list jenis pokok lain yang boleh ditanam. ingat nanti nak tambah lagi pokok. biar rumah jadi hutan pun takpe janji hakeem sihat.
Plants
Plant, Top remover of:
benzene
(NASA)[1]
formaldehyde
(NASA)[1](Wolverton)[4]
trichloroethylene
(NASA)[1]
xylene and
toluene[4][5]
ammonia[5]
Poisonous or Edible?[6]
Weeping Fig (Ficus benjamina)[13]
No
Wolverton
No
Yes
No
Poisonous if eaten or chewed by dogs, cats and horses[14]
Warneck dracaena
(Dracaena deremensis 'Warneckii')
Yes
No
Yes
Yes
No
Toxic to cats
Spider plant (Chlorophytum comosum)
No
NASA
No
Yes
No
Non-toxic to cats
Snake plant or mother-in-law's tongue
(Sansevieria trifasciata 'Laurentii')
Wolverton
NASA
Wolverton
Yes
No
Toxic to cats and dogs[10]
Selloum philodendron
(Philodendron bipinnatifidum, syn. Philodendron selloum)
No
NASA
No
No
No
Toxic to cats
Rubber Plant (Ficus elastica)
No
Wolverton
No
No
No
Toxic to Cats
Red-edged dracaena (Dracaena marginata)
Yes
NASA
Yes
Yes
No
Toxic to Dogs and Cats[11]
Pot Mum or Florist's Chrysanthemum (Chrysanthemum morifolium)
Yes
NASA, Wolverton
Yes
Yes
Yes
Poisonous if eaten or chewed by dogs, cats and horses[15]
Peace lily (Spathiphyllum 'Mauna Loa')
Yes
Wolverton
Yes
Yes
Yes
Toxic to cats
Moth orchid (Phalenopsis sp.)
No
No
No
Yes
No
Non-toxic to cats
Lilyturf (Liriope spicata)
No
Yes
No
Yes
Yes
Non-toxic to cats
King of hearts (Homalomena wallisii)
No
No
No
Yes
No
 ?
Kimberly queen fern (Nephrolepis obliterata)
No
Wolverton
No
Yes
No
Non-toxic to cats
Janet Craig dracaena
(Dracaena deremensis 'Janet Craig')
Yes
Wolverton
No
Yes
No
Poisonous if eaten or chewed on by dogs[12]
Heartleaf philodendron
(Philodendron oxycardium, syn. Philodendron cordatum)
No
NASA
No
No
No
Toxic to cats
Golden pothos or Devil's ivy
(Scindapsus aures or Epipremnum aureum)
Yes
NASA
Yes
Yes
No
Poisonous if eaten or chewed by pets or children[7]
Gerbera Daisy or Barberton daisy
(Gerbera jamesonii)
Yes
Wolverton
Yes
No
No
Non-toxic to cats
Flamingo lily (Anthurium andraeanum)
No
Yes
No
Yes
Yes
Poisonous[8]
English Ivy (Hedera helix)
Yes
Wolverton
No
Yes
No
Toxic to cats
Elephant ear philodendron (Philodendron domesticum)
No
NASA
No
No
No
Toxic to cats
Dwarf date palm (Phoenix roebelenii)
No
Wolverton
No
Yes
No
Non-toxic to cats
Dumb cane (Exotica) (Dieffenbachia)
No
No
No
Yes
No
Mildly toxic to children and pets if eaten or chewed[16]
Dumb cane (Camilla) (Dieffenbachia)
No
No
No
Yes
No
Mildly toxic to children and pets if eaten or chewed[16]
Dendrobium orchid (Dendrobium sp.)
No
No
No
Yes
No
Non-toxic to cats
Cornstalk dracaena
(Dracaena fragans 'Massangeana')
No
NASA
No
No
No
Toxic to cats
Chinese evergreen (Aglaonema modestum)
Wolverton[9]
Wolverton[9]
No
No
No
Toxic to cats
Broadleaf Lady Palm (Rhapis excelsa)
No
Yes
No
Yes
Yes
Non-toxic to cats
Boston fern (Nephrolepis exaltata"Bostoniensis")
No
Wolverton
No
Yes
No
Non-toxic to cats
Bamboo palm or reed palm (Chamaedoreasefritzii)
No
NASA, Wolverton
No
Yes
No
Non-toxic to cats
Areca palm (Chrysalidocarpus lutescens)
No
No
No
Yes
No
Non-toxic to cats